JOTT Hike 2016
This years JOTT (Jamboree on the Trail) hike followed the same theme as previous years. As our Cubs going hiking on a regular basis, a day's hike is nothing special, so we make it a 2 day hike with an overnight stop somewhere.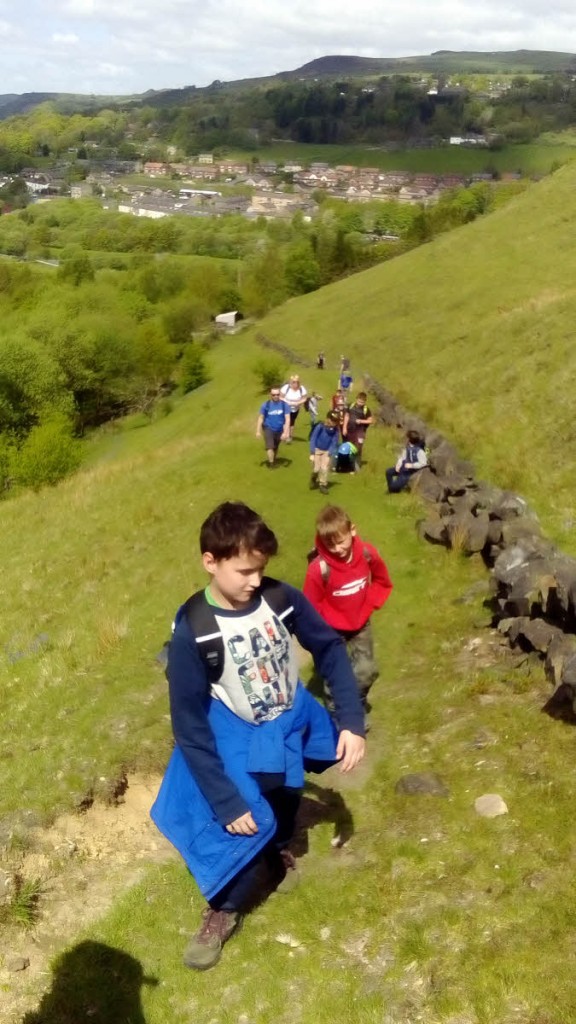 This year 13 Cubs, 1 Explorer and 5 leaders, caught the train to Todmorden and climbed up Stoodley Pike – it was a rare day there – there was no wind! We climbed the steps and admired the view before heading off in the direction of Mytholmroyd. A few hundred yards down the path is a flowing artesian well, the water is always pure, clear and cold and we spent some time there refilling our water bottles; never seen it dry, even in drought.
It was suggested that we followed a water board permissive path down the hill instead of the normal path – a mistake. The path soon became a bog and we spent quite some time jumping from grassy tuft to grassy tuft. Down the hill, up the far side and across the moor lead us to our overnight stop at Steep Lane Chapel. We were all tired having walked 8 miles up two hills, but everyone made it without any problems – they make kids tough in our town!
This year we weren't sleeping on the floor this year, we were camping. The Cubs now had to put their own tents up – first time they had done this after practicing a couple of months before. Eat tea, watch a couple of films in the chapel and then bed.
Sunday morning, bright and sunny and the Cubs, of course, were awake at 5am. Pack up, breakfast, drop the tents and by 10am we're off again; short walk this morning, just down the hill and along the canal back to Sowerby Bridge, 3 miles.
We sat outside a local supermarket and ate ice cream and handed out this years JOTT badges, before walking round the corner to meet their parents at St Paul's at midday.
What a fantastic weekend, brilliant sunshine, good company and well behaved Cubs (well most of the time!)