Another Hike!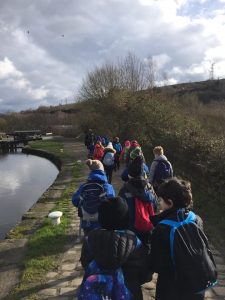 With the annual Brow Hike just 7 weeks away, we thought we ought to check out parts of the route, and what better way than another afternoon hike?
The day was sunny with no wind and we let St Paul's and walked down the canal to Copley. The sky went black and the un-forecast rain started and we took shelter in St Stephens's church at Copley. The Cubs spent 10 minutes exploring this now unused building until the rain stopped and the sun came out once more.
A stiff walk up the track followed by an enjoyable walk up Maple Dean Clough to Donkey Bridge at Norland, was followed by a rest and snack (Cubs don't snack, they always bring enough food to sink a battleship!).  A short walk across the moor lead us to Norland park where the swings and zip wire were heavily used.
The wind was very strong and cold and while the Cubs played, the leaders sat wrapped up trying to keep warm, and I was beginning to regret wearing shorts. We didn't stay long and soon set off for the rest of the walk. When one Cub says that they are cold you take steps to get them warm, but when many say the same thing more drastic action is needed. We decided to terminate the hike and head straight back home, down the hill. Back in Sowerby Bridge there was no wind!